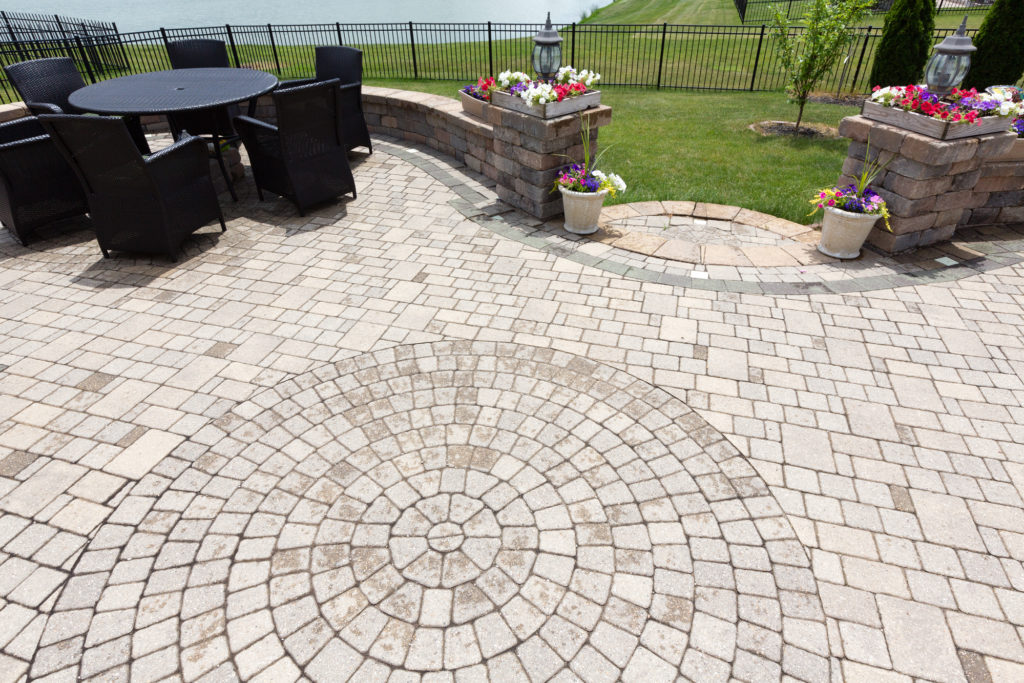 Kettering Kustom Masonry provides a wide range of masonry services. Including outdoor masonry patio design and backyard fireplaces. Brick and stone patios, property brick repairs, tuck pointing and bricklaying for homes or businesses.  For a custom design give us an idea of what you were desiring, and we will design a custom layout for your backyard or business location.
The photo shows a sample of what can be done for your patio.  With the weather getting warmer, it's time to start getting ready for Summer fun in the backyard.  This photo shows ornamental brick paved outdoor patio with a circular design in the bricks with dining furniture and colorful flowers in flowerpots flanking steps and an entrance, view from above after rain.

If you need a custom plan for your back yard.  At Kettering Kustom Masonry, we are ready to give you some great ideas to transform your backyard and help make your masonry dreams come true.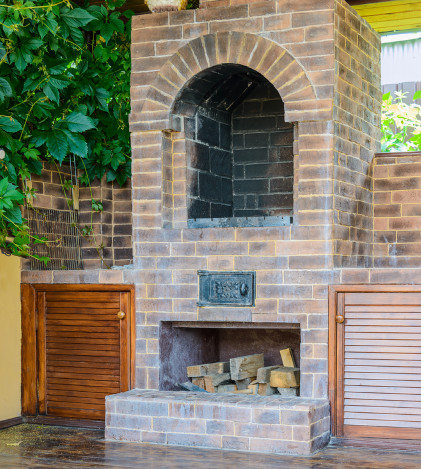 Kettering Kustom Masonry
Kettering Kustom Masonry are experts at creating outdoor fireplaces for cooking outdoors. If you are looking for a pizza oven, we can also install that for your family cooking.
Or maybe you already have an outdoor fire place or cooking area made of brick.  If you do and it needs tuckpointing, we can repair your brick masonry.  Every year you should do an inspection of all brick work, look for cracks that need tuck pointing. This will help preserve your brick work.
Available Services: Home Exterior Brick Laying, Home Brick Facing, Brick Laying for Businesses, Tuck Pointing, Brick Staining, Masonry Fireplace Repair, Masonry Inspections, Chimney Rebuilding, Cement Caps, Garage Exterior Brick Repair, Stone Steps Repair, Foundation Repair, Concrete Finishing, Floor Tile Installation, Stone Walkways, Retaining Walls, Brick Walkways, Brick Matching, Basement Water Proofing and much more…
Service Cities:
Dayton, Kettering, Beavercreek, Springfield, Springboro, Bellbrook, Centerville, Vandalia, Riverside, Waynesville, Huber Heights, Oakwood, Xenia, Washington Township, Miamisburg and Spring Valley, Ohio.
Be sure to visit our main website: KKMasonry.com
Phone: 937-252-4932